Watermelon season is here! For me, watermelon is totally synonymous with summer fun and enjoying it often brings me to another time and place. My childhood memories of watermelon-soaked backyard gatherings, pool parties, and beach parties abound. In fact, I am eating a watermelon as I am writing this!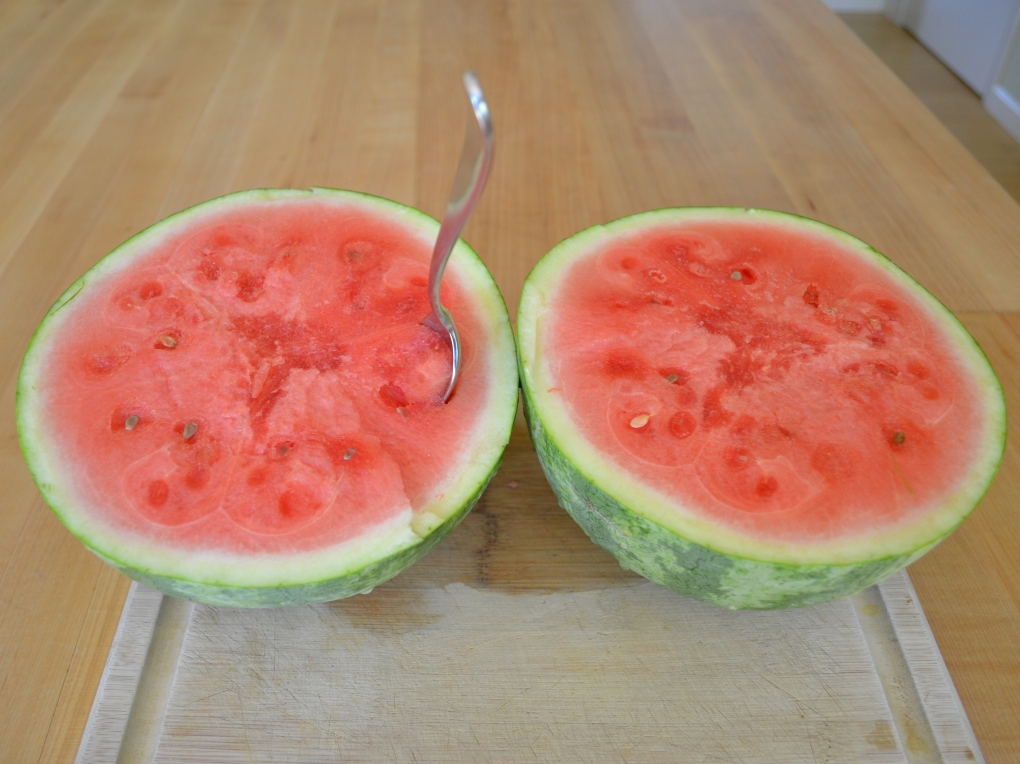 When I became interested in raw food 25 years ago, watermelon became an actual food for me, rather than a dessert. And just like at summer gatherings, back then I would remove the seeds from the watermelon before eating. Ever heard that old wives' tale that if you eat watermelon seeds they will sprout in your body? Well, we all know that doesn't happen, but I did grow up thinking watermelon seeds were to be removed before eating the melon.
It wasn't until college that I learned that those little white watermelon seeds were actually edible. Watermelon is in the cucumber plant family (Cucurbitaceae), along with summer squash, zucchini, winter squash varieties, pumpkin, and other melons such as honeydew and cantaloupe. Pumpkin seeds are famous for their zinc content, so what about watermelon seeds?
Two tablespoons of shelled dry watermelon seeds contain 1.4 mg of zinc, along with 1 mg of iron, 70 mg of magnesium, and more. For only 75 calories, the iron, zinc, and magnesium content of these seeds is excellent. When compared to a similar measure of pumpkin seeds, the zinc content is similar.
| | | | |
| --- | --- | --- | --- |
| | Watermelon seeds – Two tablespoons | Pumpkin seeds – Two tablespoons | Adult DRI |
| Calories | 75 | 93 | |
| Magnesium | 70 | 92 | 310 – 320 mg for women,  400 – 420 mg for men |
| Iron | 1.0 | 2.6 | 8 mg for men and postmenopausal women,  18 mg for premenopausal women |
| Zinc | 1.4 | 1.3 | 8 mg for women, 11 mg for men |
Most watermelons these days are seedless, but now when I come across the occasional white seed, I eat it along with the watermelon flesh. I do not eat the black seeds largely because I rarely find them. When I do find them, I compost them simply because I do not enjoy their flavor.
What about watermelon itself? Isn't it controversial for some reason?
To make it easy for people to find reliable information on watermelon and other fruits, the glycemic index, glycemic load, fructose, glucose, and carbohydrates in general, we dedicated a chapter in our book, The Raw Food Nutrition Handbook: An Essential Guide to Understanding Raw Food Diets to answering many common carbohydrate questions.
In the book we also cover other hot topics in raw food nutrition such as essential fats, protein, nutrient content of raw food diets, food combining, enzymes, hydration, vitamins, minerals, and many more. We value education on these important topics and are happy to finally bring this book to you. The book is available on Amazon and other online booksellers.