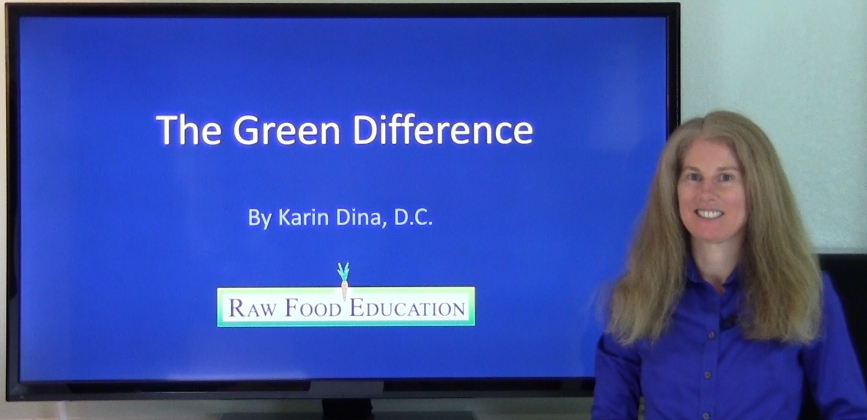 Ever since my introduction to raw food 25 years ago, I noticed that there are at any given time a number of raw food enthusiasts who choose to limit their intake of vegetables, especially leafy greens, for various reasons. From my own research, clinical and personal experience, I have found that leaving out these important foods decreases the amounts of important nutrients in one's diet.
In a recent video I show the content of selected important nutrients in three different smoothies: a fruit smoothie, the same fruit smoothie with dandelion greens added, and the same fruit smoothie with kale added. The nutrient differences between the non-green smoothie and the green smoothies are astonishing, especially for calcium and iron. Here is a chart summarizing the differences:
| | | | | |
| --- | --- | --- | --- | --- |
| | Fruit Smoothie | Fruit smoothie plus dandelion greens | Fruit smoothie plus kale | DRI |
| Calories | 436 | 510 | 536 | |
| Calcium | 110 | 418 | 381 | 1000 mg, 1200 mg |
| Iron | 2.0 | 7.0 | 5.4 | 8 mg, 18 mg |
| Magnesium | 118 | 177 | 136 | 310 mg, 420 mg |
| Potassium | 1484 | 2139 | 2382 | 4700 mg |
| Folate | 157 | 202 | 216 | 400 mcg |
Fruit smoothie recipe:
One Valencia orange
Two bananas
2 cups pineapple chunks
½ cup blueberries
½ cup strawberries
¼ cup blackberries
Fruit smoothie plus dandelion greens: the ingredients in fruit smoothie with 3 cups of dandelion greens added
Fruit smoothie plus kale: the ingredients in fruit smoothie with 3 cups of chopped kale added
Calcium and Iron: The dandelion greens and kale increase the content of all nutrients listed in the table significantly, especially iron and calcium. The amounts of calcium and iron in the fruit smoothie alone are a good start, but when leafy greens are added, the amounts of these important minerals increase dramatically. Per calorie, the green smoothies are a great value calcium and iron-wise and go a long way in helping to provide the adult DRIs (Dietary Referenced Intakes) for these important nutrients. Without leafy greens, one would be missing out on these nutrients and the health value they provide.
Magnesium: Leafy greens are a reliable source of magnesium because of their chlorophyll content. Chlorophyll is the green coloring that one finds green plants, especially in leaves. The mineral at the center of the chlorophyll molecule is magnesium, so it is not surprising to see that the magnesium content of this smoothie notably increased when leafy greens were added.
Folate: Also known as vitamin B9, folate got its name from the Latin word for foliage, which makes sense given that some strong sources of folate are leafy greens. As evidenced in the table above, adding leafy greens to one's diet can increase folate intake in many cases significantly. Folate is critical for cell division and DNA replication along with vitamin B12, and has a synergistic relationship with vitamin B12. For clarification of this relationship please see my previous blog post and video on folate and vitamin B12.
Potassium: Fruit is known as a great source of potassium and leafy greens can contain a notable amount of this important alkaline mineral, as the table above indicates.
Many more: There are so many more important nutrients found in leafy greens that we talk about in our book, the Raw Food Nutrition Handbook: An Essential Guide to Understanding Raw Food Diets. Some of these nutrients include the essential omega-3 fat alpha-linolenic acid, carotenoids lutein and zeaxanthin, protein, vitamins C and E, and many more. Many of these important nutrients work together synergistically to create an effect that is greater than the sum of the individual nutrients, so getting them from a whole food source is important. But if we don't eat the food, we don't get the nutrients. I see leafy greens and vegetables in general as playing a necessary role in a healthy raw food plant-based diet.
Video summarizing the points covered in this article: