If raw food nutrition explained to you in easy to understand terms in a fun format with plenty of time to sink in, a manageable time commitment, and plenty of opportunity to ask questions and get clarification directly from us is important to you, we invite you to join us for our online Mastering Raw Food Nutrition and Educator Course!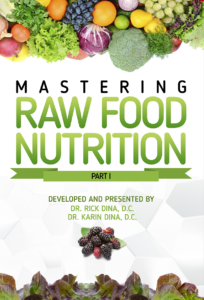 We are so happy to bring this program to you! We want you to experience all the joy and benefits eating and living this way has brought to our lives. We've listened and created this curriculum based on your input!
Click here to learn more about our Mastering Raw Food Nutrition online and interactive program.
What distinguishes Drs. Rick and Karin Dina, D.C. from other raw food and plant-based nutrition educators:
We are licensed clinicians.
We have been teaching, researching, and practicing raw food nutrition for over 27 and 30 years each - that's almost 60 years of collective experience between us.
Our information is grounded in reliable peer-reviewed research.
We are the developers and instructors of the Science of Raw Food Nutrition series of classes we taught in-person at a well-known raw food culinary school in northern California for 10 years and the online version of our Science of Raw Food Nutrition series, the Mastering Raw Food Nutrition and Educator Course.
Comments from a couple of our current Mastering Raw Food Nutrition students:
"The Mastering Raw Food Nutrition and Educator Course online has been a great learning experience! Starting from nutrition basics, further developing to subjects specifically related with raw food nutrition, and even expanding to some lifestyle aspects not directly related with nutrition but extremely important for optimal health, this course has exceeded my expectations week after week. With a very complete set of materials (video and audio classes, comprehensive set of notes, question and answer session's recordings) and the excellent teaching skills of Drs. Rick and Karin Dina, the information is very easily assimilated and is accessible for anyone with no nutrition-related background. Having a scientific background, my usual need to find scientific evidence to support facts has been fully met with this very solid, scientifically based course. In addition, my nerdy curiosity regarding further details on the topics lectured has always been satisfied by Drs. Karin and Rick Dina who very nicely answer all of my questions in the weekly question and answer sessions. Despite the large range of topics covered, the information is concise, very accurate and truthful to the references, highlighting the trends in the literature when contradictory results are present. In addition, by sharing their personal experience as raw foodists as well as their clinical experience, Drs. Dina helped me see how things we learn in theory come down into practice. Everything makes sense! I have attended to each online class with much enthusiasm, I understood the fundaments and am 100% confident about the knowledge I have acquired along these months. While before the start of the course I had little knowledge about nutrition, now I am able to explain and discuss many aspects of nutrition/health-related issues. This learning experience has empowered me to take well educated decisions that will benefit my health, as well as to help those who are interested in optimizing their heath."
Rita F. PhD candidate, Lisbon, Portugal
"I find very helpful to have the point of view of doctors who are really impartial in their opinions, and who explain things with scientific studies and fact, not philosophic thoughts... and who do not sell anything! I feel very lucky to be able to ask any questions each week and to always receive a good response. I learn a lot, I understand much more now, even if I studied biology and have read a lot of books about raw food since then. I hope there will be a second year for us to enter even deeper in the science of raw food. Thanks to you Karin and Rick Dina!" 
Anne-Marie B., Paris, France
Comments from some of our past Science of Raw Food Nutrition students:
"The [Science of Raw Food Nutrition I] class is information packed in an understandable progression linking it all together. Really enjoyed the real-life analogies! Entertaining and informative."
Lisa, California
"Pleasantly surprised the quality of information was evidence-based AND of a level to actually educate. This should be a college-credit course..."
Anonymous
The amount of information about raw food, vegan, vegetarian, plant-based diets, and nutrition in general available today is endless and often times contradictory ..... Are you interested in knowing whether or not there is reliable science to substantiate this information?
"Drs. Rick and Karin bring clarity to the topic of nutrition by cutting through all of the 'noise' that's out there. They offer scientifically proven information in a style that's easy for a novice to understand."
Faith, California
We enjoy exploring all aspects of raw food, health, and nutrition and have spent collectively over 50 years practicing the raw food lifestyle and educating ourselves about the science behind the claims. The information that we have found has been fascinating, often surprising, and very eye-opening. Our courses provide answers to common questions about plant-based raw food diets and beyond, and are presented in a fun and easy to understand format. No other raw food educator combines our doctorate-level education, research, clinical, and personal experience with raw food nutrition the way we do.
"If you want to build a base to your nutritional education, this course is the best that I know of. Excellent information to use or teach."
Mike, Pennsylvania
"Well presented with little bias. Thanks for being such a cute and [self-proclaimed] nerd couple and digesting all this information into an easily absorbed class for us laymen/women."
Ian, British Columbia
"Packed full of useful info that you won't find in other trainings!"
Anonymous
Our online Mastering Raw Food Nutrition and Educator Course covers hot topics in raw food nutrition including:
Raw plant sources of iron, calcium, protein, vitamin B12, and essential fatty acids
Blood sugar
pH balance
Food changes from cooking
Anti-inflammatory nutrition
Weight management
Anti-aging and longevity
And much more...
We enjoy making complex scientific concepts entertaining and easily understandable for the non-scientific person and provide greater clarity, depth, and perspective for those with a science or nutrition background. This is a great course for chefs, health educators, or anyone else who wants to have the knowledge base to achieve their their health goals by gaining a greater understanding of scientifically-based raw plant-based nutrition.
Click here to read more comments about our classes by our students!
Our book, The Raw Food Nutrition Handbook: An Essential Guide to Understanding Raw Food Diets
 is now available for sale on Amazon:
In this book, we cover the "where do you get your" questions, like where do you get your protein, B12, vitamin D, omega 3 fats and more. We provide updated research-based information on classic raw food topics like enzymes, food combining, and raw plant sources of important vitamins and minerals. We also discuss the different approaches to raw food and how raw food diets compare nutritionally to other dietary approaches, and much more.
---
Our mission is to convey to our students accurate, scientifically-based, user-friendly information about plant-based nutrition, designed to create a learning experience that will assist and empower those on the path to greater health and well-being.
---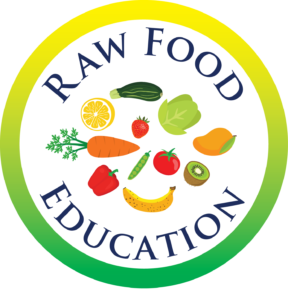 Because we offer on this page a link to our book for sale on Amazon.com we provide the following information: Raw Food Education, LLC is a participant in the Amazon Services LLC Associates Program, an affiliate advertising program designed to provide a means for sites to earn advertising fees by advertising and linking to Amazon.com.